engram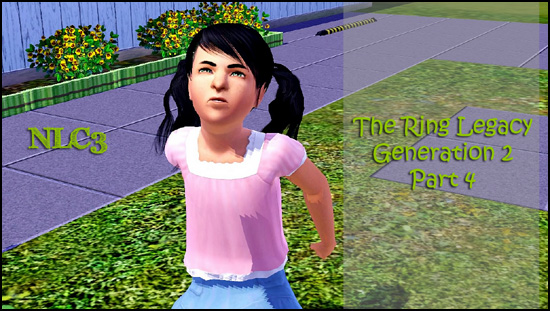 Welcome back to the Ring Legacy.
What made Decoder so angry, you may be wondering. Well, you just have to read on to find out!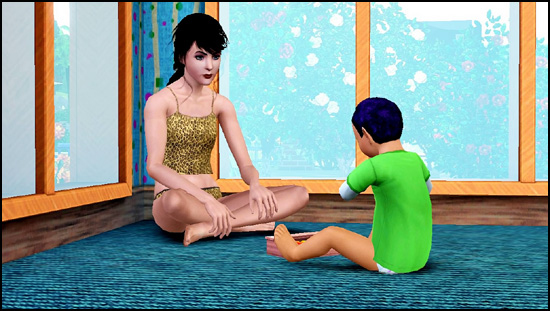 You could try looking a bit more enthused about playing with your son, Narya.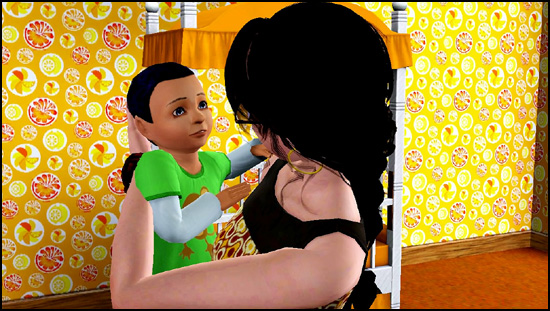 That's better! Snuggles = positive parent-child interaction.

While Narya was snuggling Eddy Current I got this pop-up in the corner. My first autonomously gay couple in TS3 and one of them is my self-sim's son!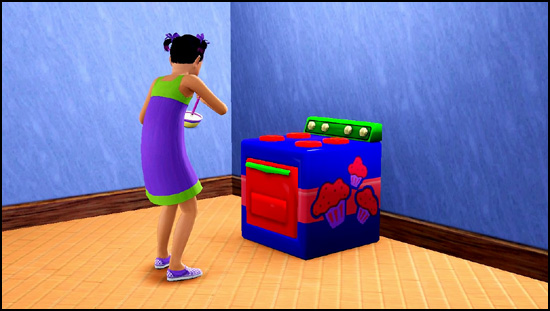 Time for the kids to start earning their keep. Bake those muffins!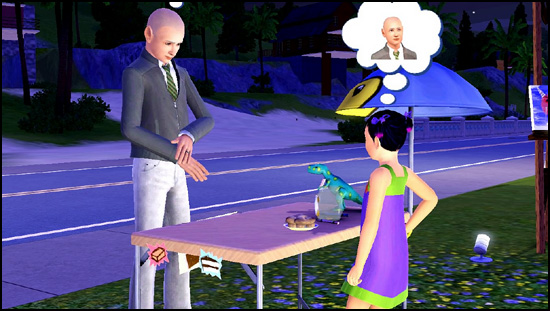 Belles Will is the one chosen to tend the bake sale table. She manages to do quite a few sales.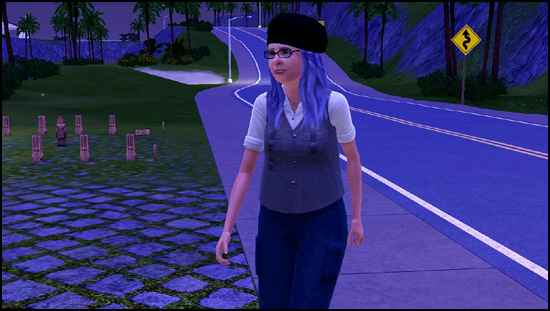 Even my now-elderly self-sim turned up, wearing a jaunty hat.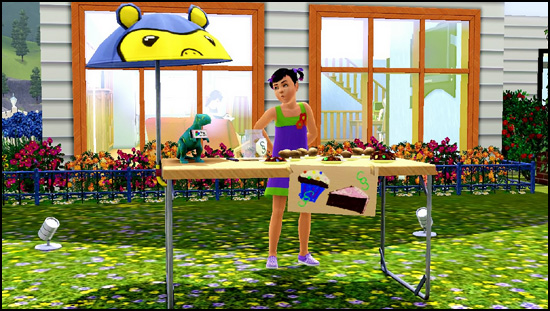 Who could resist a sweet treat from a sweet-looking girl?

Apparently someone would!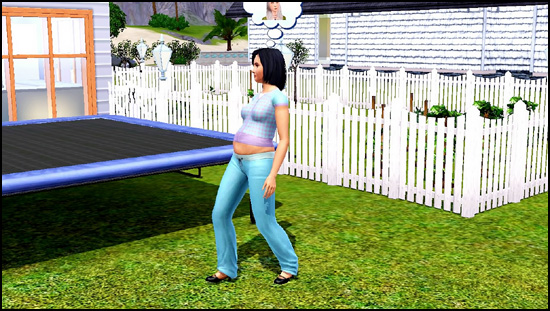 Kiera (wife of Solar) waddled onto the lot.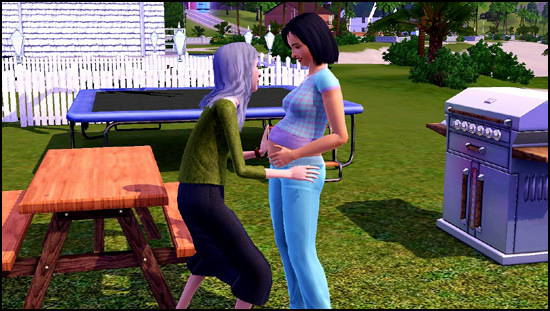 Molly was most excited about the prospect of even more grandkids.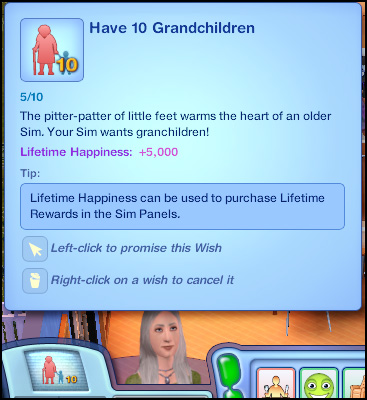 LOL only if Moebius and Solar's wives keep popping them out! We're done with kids on this lot!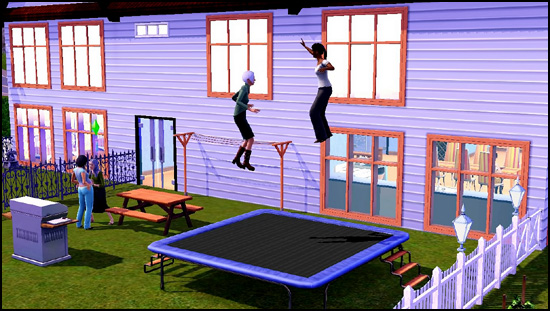 The trampoline is really addictive. The bake sale table lures them in but the trampoline keeps them there.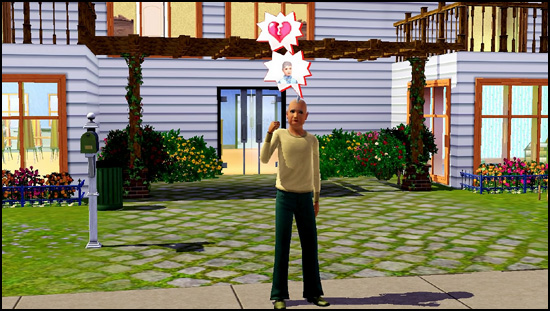 I have no idea who she is or why Perry is mourning her. Because that is NOT Veronica (Gordon's mother; Perry is Gordon's dad for those who forgot, which would be EVERYONE).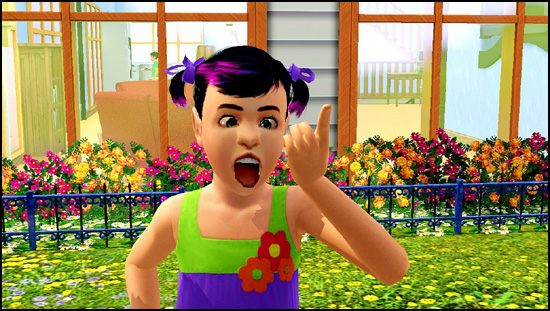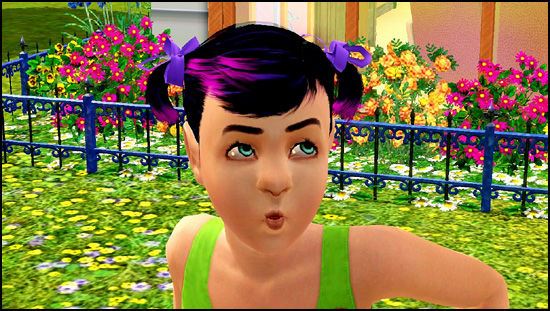 And then Belles Will makes me love her even more.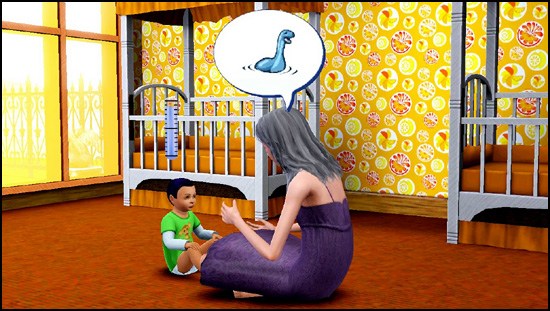 Sometimes I wonder what they're saying when trying to teach a kid to talk.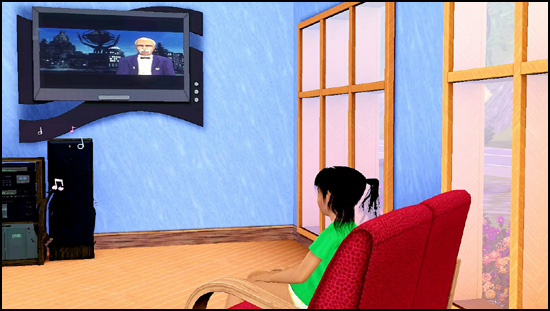 Decoder is one of the most boring little girls I have had the misfortune to have in my game. This is all she ever does. Really. She goes to school. She does her homework when forced to. And she watches television. All. The. Time!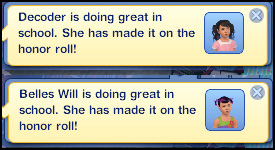 Yay for success at school!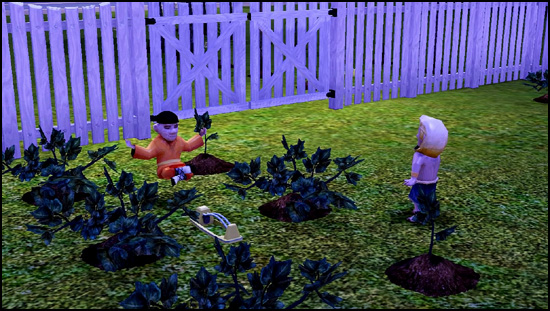 I ended up selling the magic gnomes Narya brought home from France and buying new ones to replace them. These ones move! The old ones were broken or something because they never moved.
These are Narya's gardening stats. She has basically mastered everything including the "side quests".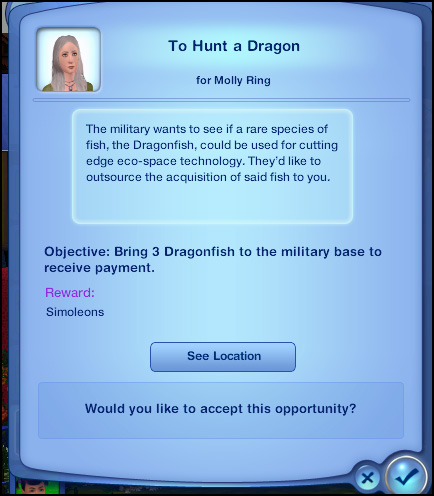 Nope. Sorry. Only Narya gets to travel. I need to make sure that she gets the proper tomb completion bonuses and a lighthearted jaunt to China for the old folks isn't currently in the plans.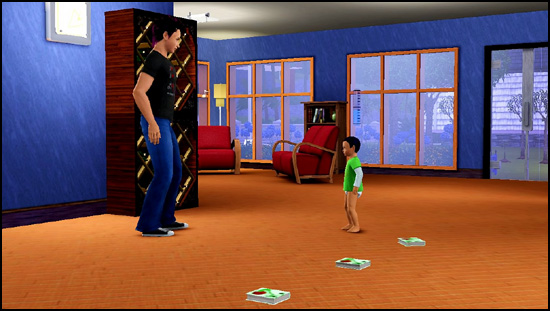 More skill-learning for Eddy Current. I don't have much of a feel for him as a toddler, which is kind of sad. As a toddler Decoder was all sorts of awesome in terms of being a speed learner while Belles Will was a slower learner but showed a more interesting personality. Eddy is just kind of... there.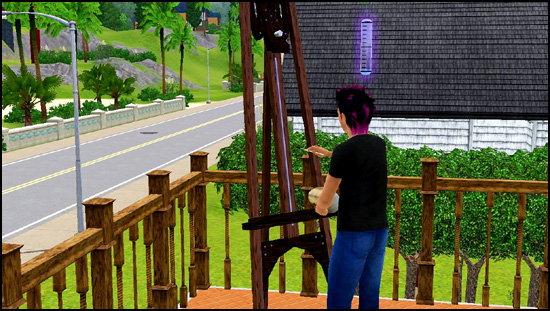 The easel came across from the old lot with a partially completed painting on it. I didn't realise it was still there until Gordon decided that he would finish it. He got to sell it, too!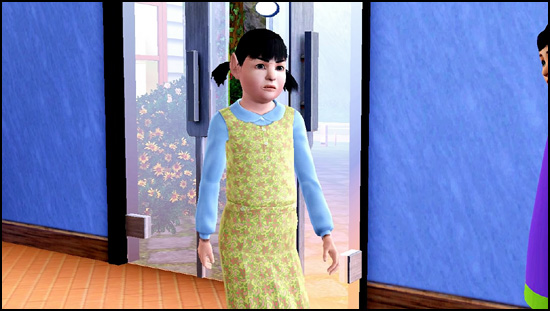 This is Kasandra, Moebius's daughter. She looks a lot like her daddy and grand-daddy.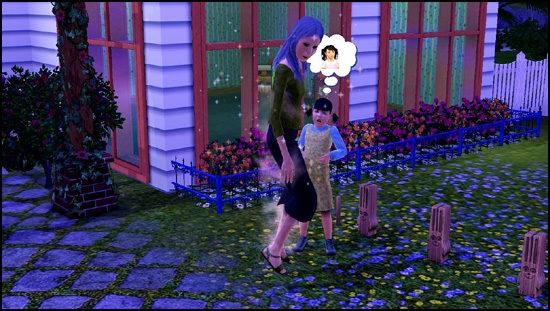 Poor thing got to meet her grandparents for the first time and then Molly proceeded to die right in the middle of the visit!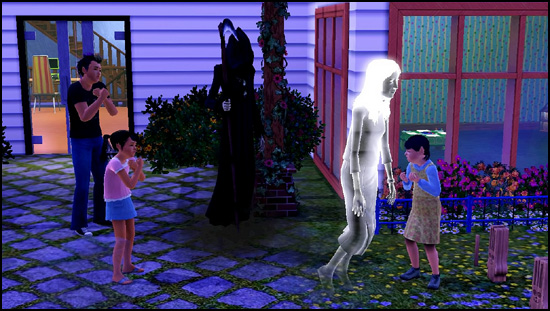 There was much weeping and gnashing of teeth.
Video of Molly's death animations
The music is none of my doing, the game supplied that. And please ignore the sound of the C key being pressed to capture an image.
Now that you are suitably traumatised by that, have some more weeping and gnashing of teeth.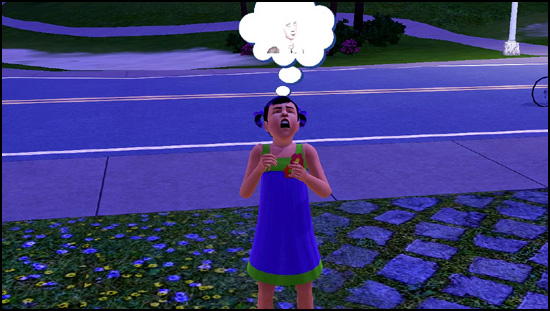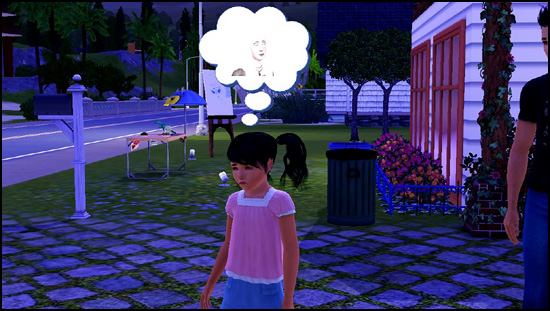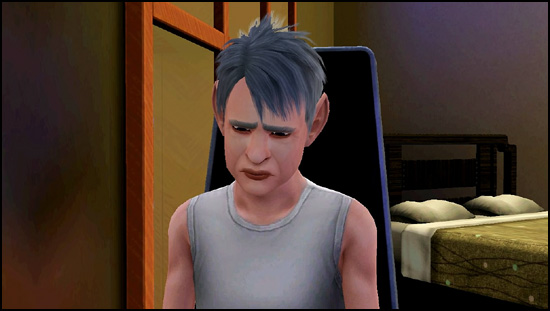 OMG The One looks SO SAD!!!!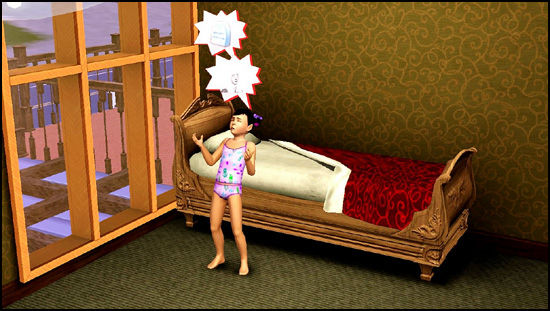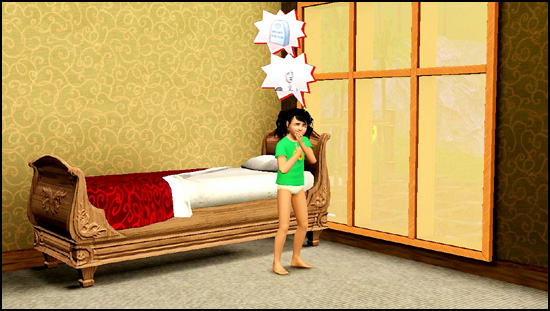 It just kind of kept going and going and going and going... Everyone on the lot got the "heartbroken" moodlet for 48 hours.
That second day I got a pop-up that Decoder wanted to go and visit Kasandra so I let her.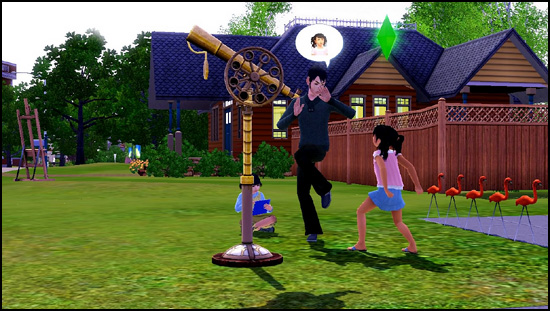 Yeah, maybe consoling her wasn't such a good idea, Moebius!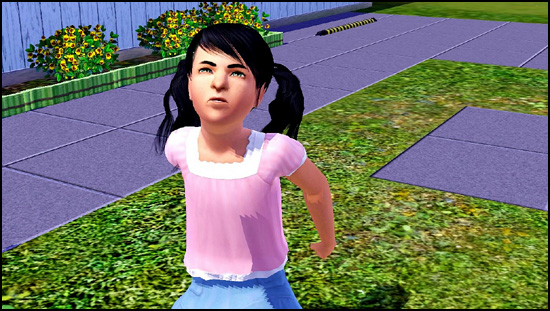 Decoder
: SNARL!!!!
* Snaps at Moebius's hand with teeth *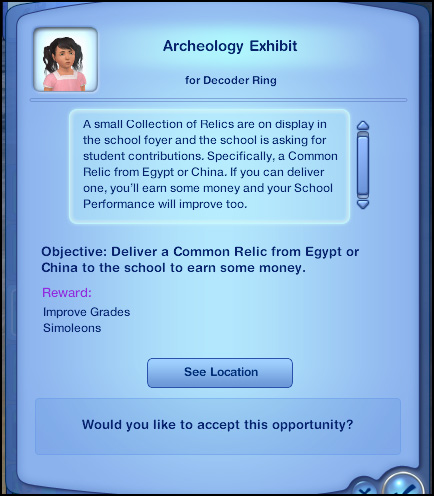 Not that she needs to improve her grades but we could use the money and there are lots of relics left, just sitting around in the basement, gathering dust.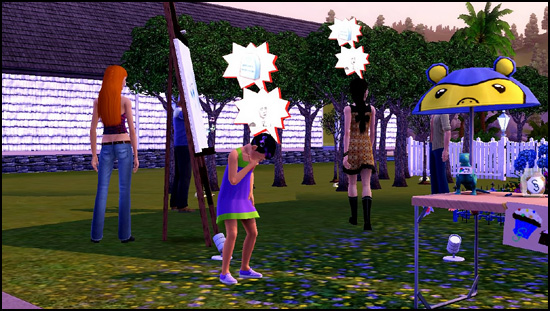 In case you were wondering, they're still not over Molly's death.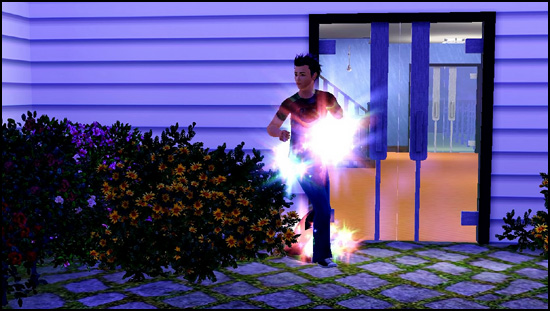 All the weeping and the multitude of visitors due to the almost constant bake sale made me forget about Gordon's birthday.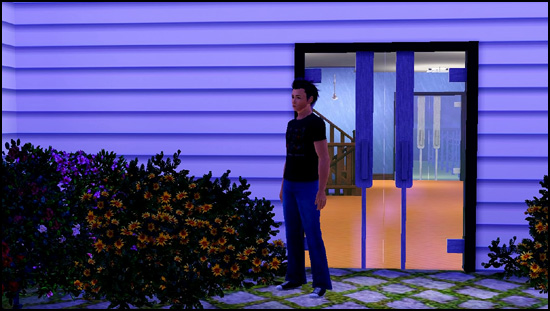 Have a distance shot because I was distracted and forgot to zoom in.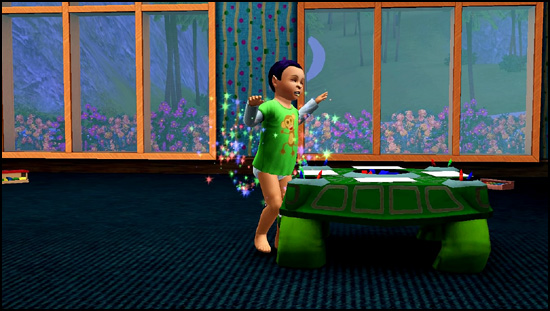 Eddy Current
: I will FLY into the next life stage! Watch me flap my pretty fairy wings!
Right...
Moving right along!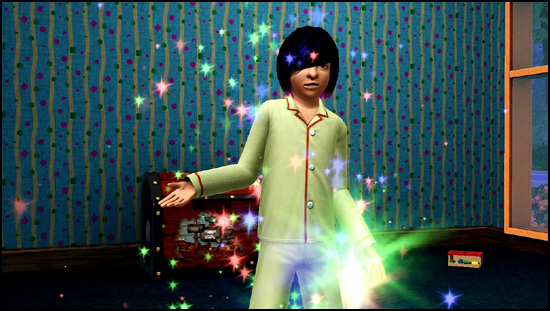 That hair is going to have to go. I rather like the PJs, though.
Then this guy showed up.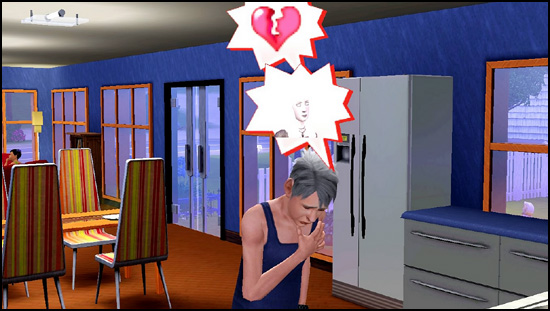 And then The One started sobbing in the kitchen.
And somehow the burglar totally disappeared from the lot. When I tried to click on him it said that he was working and cannot be disturbed, but when I checked all three levels of the house he was nowhere to be found. Maybe he was just casing the joint?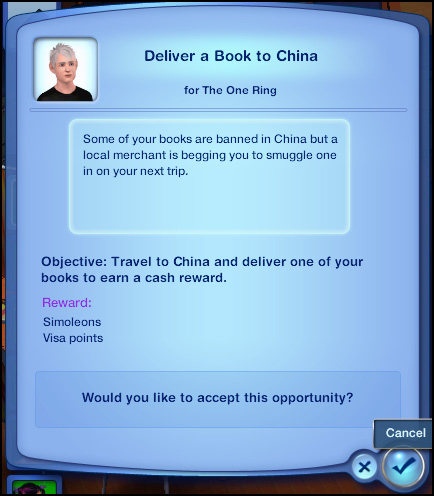 Even less chance of this happening now than there was before.
The One's life meter is full and at this time he was 99 days old. Molly died at 97 days old. So yeah, not risking the legacy founder with a trip overseas. These things have a way of going very very wrong for me.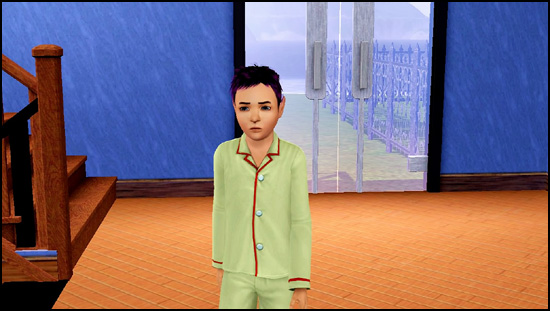 Eddy Current got a haircut but I left his clothes as they were. His everyday outfit makes him look like a little nerdlet. It is very cute! Though he is quite clearly still in his PJs in this picture.
Neighbours just barge into their little private cemetery in the backyard and cry over Molly's grave.
That's Renee Andrews, one of my sims, bawling her eyes out and missing her friend.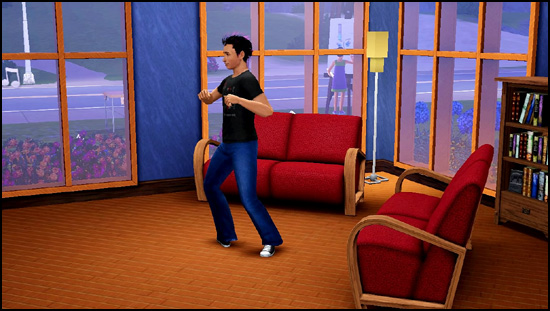 And in case you were wondering, this is where Decoder gets her obsession with being entertained. Because unless I control him every second of the day this is all Gordon does. The moment I stop actively controlling him, he either puts the laundry in the washing machine or turns on the stereo and dances. If I ever need him I know where to look – the stereo or the laundry.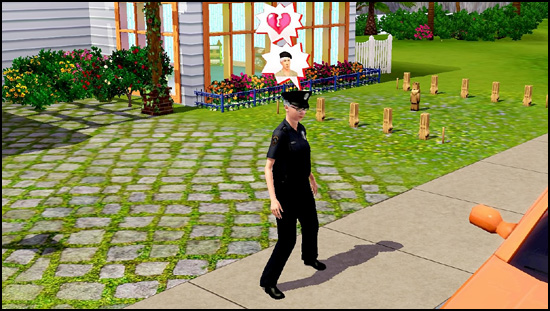 My self-sim is a cop!!!
Here she is escaping from the Ring lot after turning up to buy a muffin. And bless her, she's missing her husband. Awwww... They both got jaunty hats for their elder hair. It was very heartwarming watching them around town, in their little matching berets.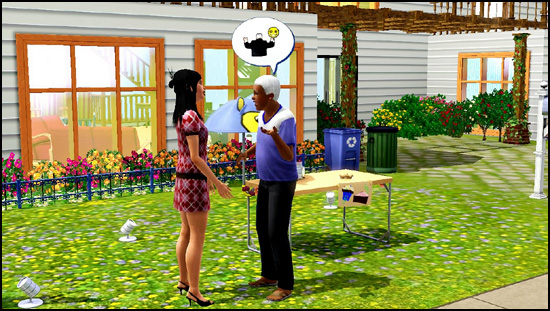 The whole damn hood is obsessed with buying baked goods. The place is constantly crawling with sims wanting muffins and cookies.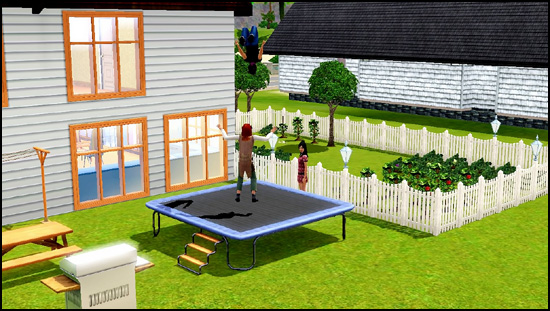 And they're beating each other off with sticks in the fight to be the first on the trampoline.
If you look carefully, you can see Gordon in mid-air, doing a fancy tumble.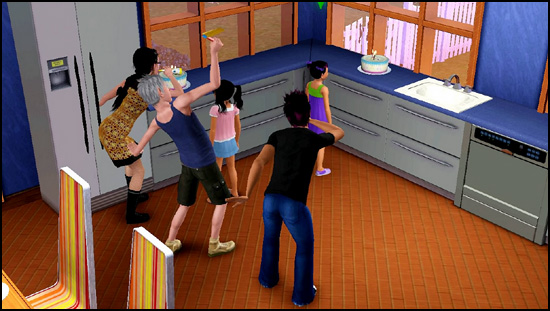 Time for another birthday. This time it's the twins.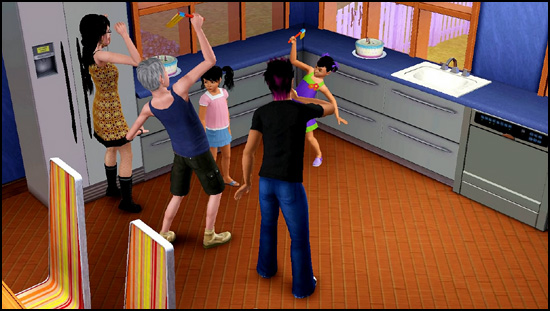 Everyone is celebrating but Decoder just looks off to the side. Either she's being shy or she knows something the rest of them don't.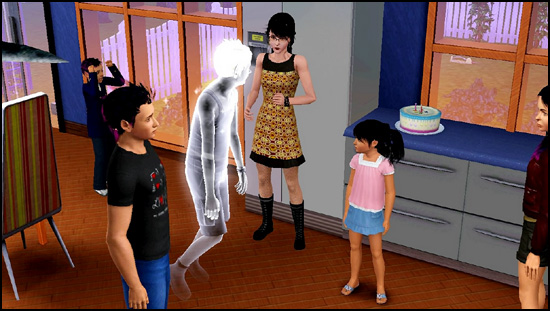 DAMN PSYCHIC CHILDREN OF THE CORN OR WHATEVER THE HELL YOU ARE!!!!
Please note the already transitioned Belles Will on the right hand side of the image.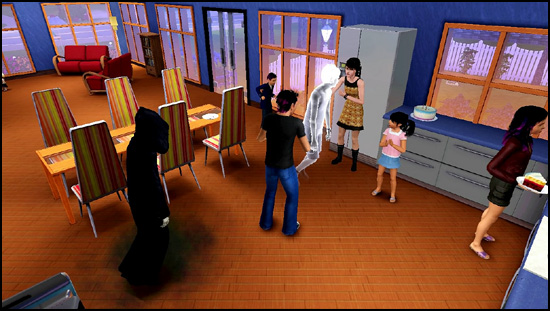 Belles Will just gets on with the cake eating while Decoder decides that the appearance of Grimmy is the perfect opportunity to start celebrating.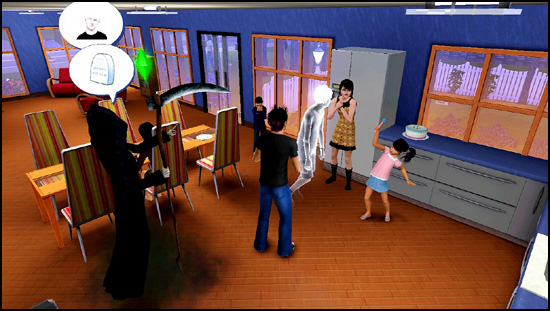 * Facepalm * THIS IS NOT THE APPROPRIATE THING TO BE DOING, DECODER!!!!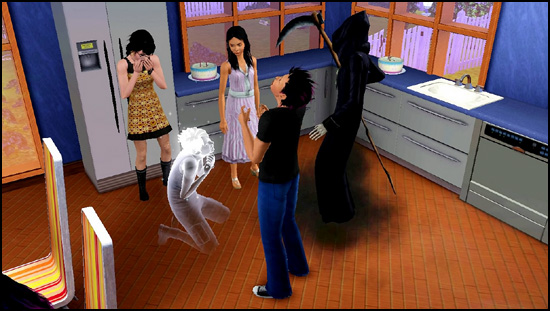 Decoder finally age transitions as The One drops to his knees before Grimmy.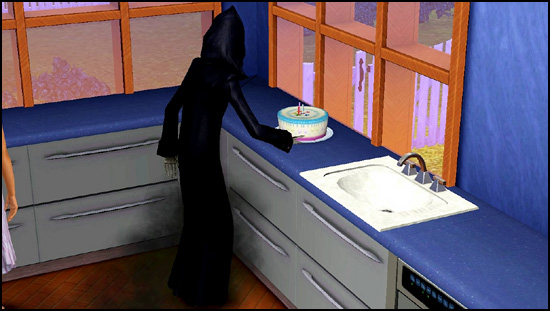 Who sends him on his way because The One was apparently keeping him from getting a slice of cake.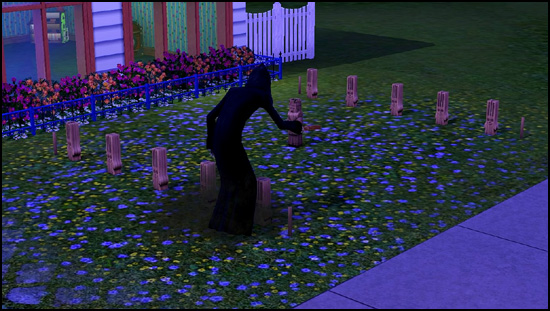 The fact that Grimmy then went off to play Gnubb is starting to make him seem more like Death in the Discworld novels than anything else.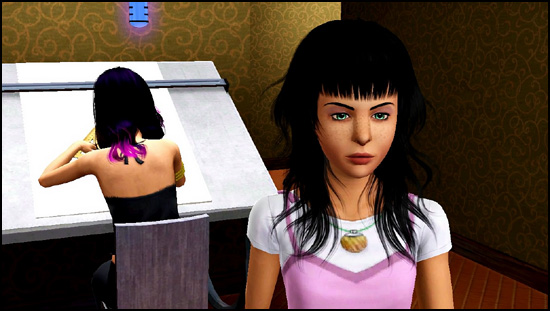 While all that was going on I sent the girls off for makeovers. This is Decoder.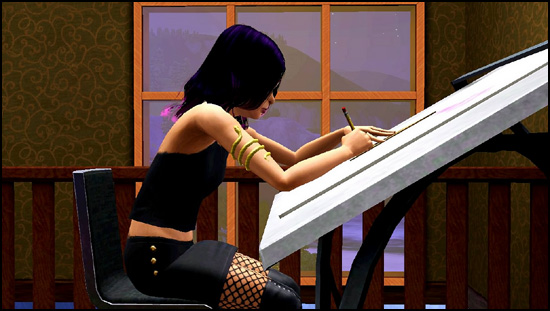 This is Belles Will. She's sneaky and moves fast and I didn't manage to catch her in a good position to snap a pic.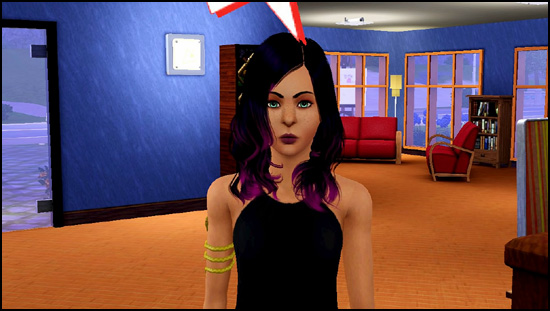 That's better.
Belles Will's makeup was suggested by my 5 year old son. Which is why she looks like she fell into a makeup kit and barely managed to claw her way out.
"Boys don't like pink lipstick, boys like dark purple. Take that off, Mum, and put the purple on her."
And she gets to keep this look because Matt likes to hang out with me while I play and he would be most upset with me if Belles Will was missing her "boy-approved" dark purple lipstick.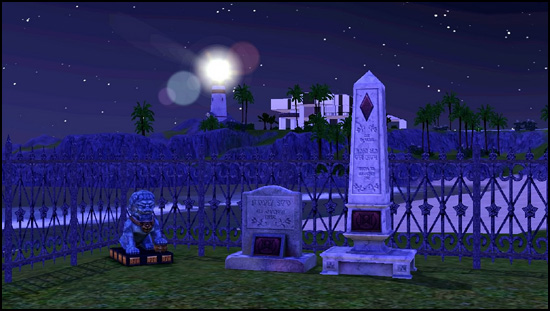 The One joins his wife in the little cemetery out the back. I later put flowers in front of their graves. The difference in head stones is due to the fact that The One completed his LTW while Molly did not.
Some housekeeping before we sign off.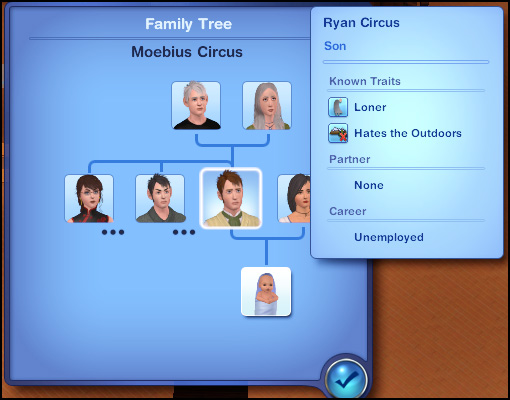 Solar and Kiera had a son (that's the baby that Kiera was pregnant with during the update; I later spotted her in her maternity wear again so I think they have another child on the way).
While Moebius and Esmeralda have just Kasandra for now, though I did see Esmeralda running around with a pregnant tummy so I think there is another one on the way.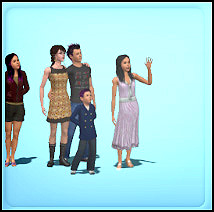 This was my loading screen just before I gave the twins makeovers. This family is trying to rip my heart out with all the weeping, clutching of chests from grief and waving to invisible sims in the loading screen.
See you next time!